My rating:
I originally found the English translation of this book (Jane, the fox and me) when I was requesting more teen graphic novels for the bookmobile at the library where I work. I was trying to get in some more recent works and the illustrations caught my eye when I first saw the cover in our library catalog.
After reading this graphic novel, I can definitely say that the illustrations are still my favorite part. The book tells the story of Hélène, a young girl who is made fun of at school for her weight. The girls laugh at her and write nasty messages in the bathroom stalls, while the boys mostly ignore her. Then the school announces that everyone has to go to camp and Hélène is ready for the bullying to get even worse.
At first it seems like her fears might come true. Hélène seeks refuge in Jane Eyre, and she reads the book all the way to camp. When she can't curl up with her book, though, she still has to deal with the taunts of the other girls. The illustrations are stunning, but also complement the story very well. Hélène's reality is portrayed in varying shades of black, white, and grey to reflect the shame and loneliness she feels.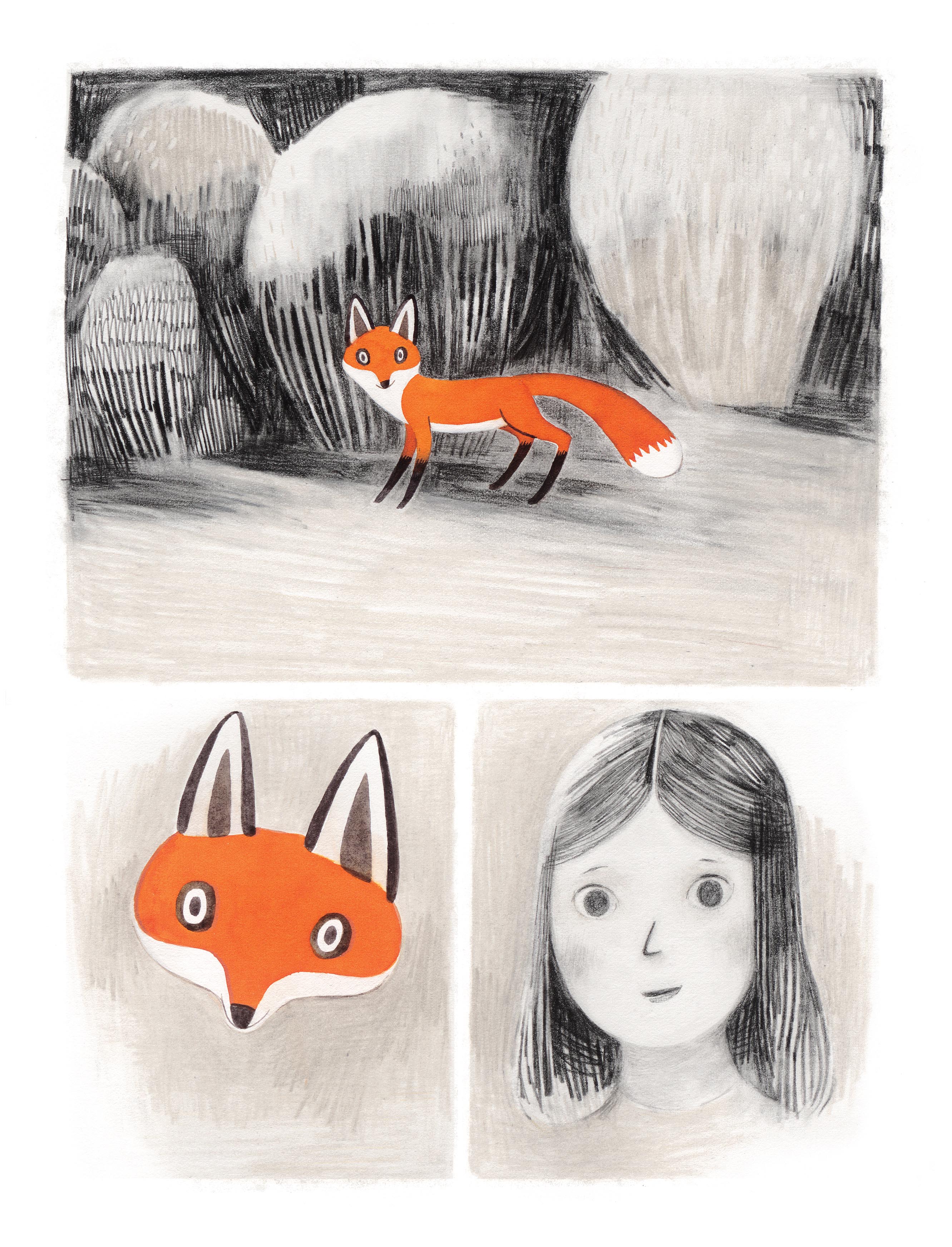 The scenes from
Jane Eyre
, on the other hand, are illustrated in color. This scheme stays consistent until Hélène meets a fox outside her cabin at camp, bringing color into her own life. Unfortunately one of the other girls comes outside and the fox runs off.
Hélène's life goes back to black and white as she becomes even more disenchanted with her life. The girls make fun of her, the boys run away from her, and she even scared away a fox. Eventually, though, Hélène finds a friend and realizes that some things are more important than the mean comments of her classmates. As she begins to spend more time with Geraldine and less time listening to the girls at school, the illustrations slowly incorporate more and more color, ending with this beautiful picture.
The story is nice, but felt overly simple. On the one hand, this book made for a beautiful, short read, but I still feel like it could have been even better if it were a bit longer. From the length and simplicity of the plot, I would almost be tempted to move this book to the children's area. In any case I think it's definitely right on the edge between children's and YA and I would probably recommend it to primarily middle grade readers if I were only judging the text. I would definitely give the illustrations 5 stars, though, and I think older readers and even adults (myself included) can enjoy this beautiful graphic novel.